Elected Executive Commitee
Maggie Atherton
Honorary Membership Secretary
Suzanne Clarke
Churchwarden of the Abbey
Bill Newman
Churchwarden of the Abbey
Meetings are held regularly to review the requirements of the Abbey and to conduct the business of fundraising. Contact can be made at:
FOPA PO Box 46, Pershore, WR10 1YN
Projects and Achievements
Pershore Abbey's fabric is well maintained and, due to the generosity of donors & the foresight and work of the trustees, resources remain intact to address requirements as and when these emerge.
Most recent completed projects supported by us include:
Measured Digital Survey
Signage
Purchase of 100 "Nesting" Chairs
Purchase of Sound System and Mixing Desk
Level Access at West End Door
Roof Repairs and underpinning to the St John's Chapel and North Transept
A new pipe organ for the 21st Century
Restoration of the Bells, Carillon & Ringing Platform
New Toilets & Choir Vestry
Extension of Underfloor Heating
Upcoming Events at Pershore Abbey
We hold a small number of events throughout the year to update our members. Where possible we endeavour to ensure that these events also help with fundraising. Friends Memorial Lectures are normally held annually in June. Past speakers include Lord Digby Jones and Harriett Baldwin MP. The AGM and annual lunch takes place immediately after the patronal festival on the second Sunday in September. Occasional concerts in the Abbey to raise funds also take place.
Friends Memorial Lecture – 29th April 2022
The Friends of Pershore Abbey are delighted to announce that Dr. Belinda Wilkes, Director of the Chandra X-Ray Center & Senior Astrophysicist at the Smithsonian Astrophysical Observatory has agreed to deliver the Friends Memorial Lecture. The title of the talk is: "Views of the Universe through the sharp X-ray eyes of NASA's Chandra X-Ray Observatory".
This once in a lifetime opportunity to hear such an eminent British scientist will take place in Pershore Abbey at: 6.00pm for the pre-talk reception and 7.00pm for the lecture on 29th April 2022.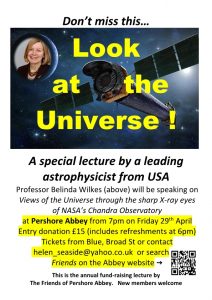 NASA's Chandra X-ray Observatory was launched on 23 July 1999 by the Space Shuttle Columbia. Now in its 22nd year of operations, Chandra continues to be an indispensable tool for expanding the frontiers of knowledge throughout astrophysics. Chandra's uniquely high (sub-arcsec) spatial, and spectral resolution have facilitated the deepest and sharpest images of the X-ray sky and the highest quality X-ray spectra to date. Its broad capabilities allow continuous expansion of its science based on new discoveries and facilities , e.g. the Event Horizon Telescope, NASA/ESA's JWST ("Webb", launched 25 Dec 2021). I will review Chandra's launch and unique capabilities, and take us on a tour of some of the most spectacular discoveries across the whole range of celestial sources. These include the birth and death of stars, super-massive black holes, the first quasars, clusters of galaxies, dark matter, merging neutron stars, and more.
Website: chandra.si.edu
Dr. Belinda Wilkes is a Senior Astrophysicist at the Center for Astrophysics  Harvard & Smithsonian. She served as Director of the Chandra X-ray Center, which operates NASA's Chandra X-ray Observatory on contract with NASA. She is currently a Royal Society Wolfson Visiting Fellow at the School of Physics, University of Bristol.
Dr. Wilkes received her BSc (Hons) in Astronomy and Physics from St. Andrews University, Scotland in 1978 and her PhD in Astronomy from Jesus College, University of Cambridge, England in 1982. She spent two years as a NATO postdoctoral fellow at the University of Arizona's Steward Observatory, and moved to CfA's High Energy Astrophysics Division in 1984. She is a Fellow of the Royal Astronomical Society, American Astronomical Society, American Physical Society, American Association for the Advancement of Science, and Cambridge Philosophical Society, and a member of the International Astronomical Union, and the European Astronomical Society. She has received numerous awards, including many SI Exceptional Accomplishment Awards, 5 NASA Group Achievement Awards, and a NASA MSFC Director's Commendation. In 2018 she was elected an Honorary Fellow of Jesus College, Cambridge University.
Dr. Wilkes' research involves X-ray and multi-wavelength studies of active galaxies: super-massive black holes in galaxy nuclei. She is author and co-author of over 470 science publications, including 166 refereed papers (11,700 citations, H-index 58), two books, several book chapters, and multiple articles and interviews in the public media.
2021 Annual General Meeting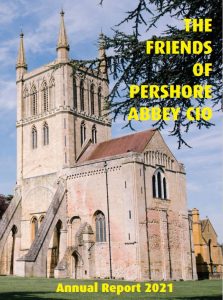 The Friends of Pershore Abbey CIO Annual General Meeting took place at 12.00noon on 12th September 2021 in Pershore Abbey. All members were welcome to attend and received a copy of the Annual Report. A copy is available to download here: FOPA Annual report 2021 FINAL 11 8 2021
2020 Annual General Meeting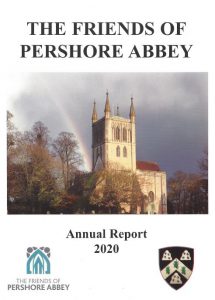 The 2020 Friends of Pershore Abbey AGM took place virtually. The Annual Report was posted to all members. A copy is also available to download here final fopa 2020 text
The Friends of Pershore Abbey
Website Privacy Statement
Information Collection and Use
The Friends of Pershore Abbey is the sole owner of the information collected on this site. We will not sell, share, or rent this information to others in ways different from what is disclosed in this statement. The Friends of Pershore Abbey collects information from our users at several different points on our website.
Cookies
A cookie is a piece of data stored on the user's hard drive containing information about the user. Usage of a cookie is in no way linked to any personally identifiable information while on our site. Once the user closes their browser, the cookie simply terminates. For instance, by setting a cookie on our site, the user would not have to log in a password more than once, thereby saving time while on our site. If a user rejects the cookie, they may still use our site. The only drawback to this is that the user will be limited in some areas of our site. Cookies can also enable us to track and target the interests of our users to enhance the experience on our site.
Some of our business partners use cookies on our site (for example, advertisers). However, we have no access to or control over these cookies.
Log Files
We use IP addresses to analyse trends, administer the site, track user's movements, and gather broad demographic information for aggregate use. IP addresses are not linked to personally identifiable information.
Sharing
We will share aggregated demographic information with our partners and advertisers. This is not linked to any personal information that can identify any individual person.
Links
This web site contains links to other sites. Please be aware that we at The Friends of Pershore Abbey are not responsible for the privacy practices of such other sites. We encourage our users to be aware when they leave our site and to read the privacy statements of each and every web site that collects personally identifiable information. This privacy statement applies solely to information collected by our Website Network.
Newsletter
If a user wishes to subscribe to our newsletter, we ask for contact information such as name, email address and phone number.
Surveys & Contests
From time-to-time our site requests information from users via surveys or contests. Participation in these surveys or contests is completely voluntary and the user therefore has a choice whether or not to disclose this information. Information requested may include contact information (such as name and delivery address), and demographic information (such as postcode, age level). Contact information will be used to notify the winners and award prizes. Survey information will be used for purposes of monitoring or improving the use and satisfaction of this site.
Email-A-Friend
If a user elects to use our referral service for informing a friend about our site, we ask them for the friend's name and email address. The Friends of Pershore Abbey will automatically send the friend a one-time email inviting them to visit the site. The Friends of Pershore Abbey stores this information for the sole purpose of sending this one-time email. The friend may contact The Friends of Pershore Abbey at www.fopa.org.uk  to request the removal of this information from our database.
Security
This website takes every precaution to protect our users' information. When users submit sensitive information via the website, your information is protected both online and off-line.
While we use our best efforts to protect sensitive information online, we also do everything in our power to protect user-information off-line. All of our users' information, not just the sensitive information mentioned above, is restricted in our offices. Only employees who need the information to perform a specific job (for example, our finance section or a customer service representative) are granted access to personally identifiable information. Our employees must use password-protected screen-savers when they leave their desk. When they return, they must re-enter their password to re-gain access to your information. Furthermore, ALL employees are kept up-to-date on our security and privacy practices. Every quarter, as well as any time new policies are added, our employees are notified and/or reminded about the importance we place on privacy, and what they can do to ensure our customers' information is protected. Finally, the servers that we store personally identifiable information on are kept in a secure environment, behind a locked cage.
If you have any questions about the security at our website, you can send an email to friends@pershoreabbey.org.uk
Special Offers
We send all new members a welcoming email to verify password and username. Established members will occasionally receive information on our organisation and our activities, and a newsletter. Out of respect for the privacy of our users we present the option to not receive these types of communications. Please see our choice and opt-out below.
Site and Service Updates
We also send the user site and service announcement updates. Members are not able to un-subscribe from service announcements, which contain important information about the service. We communicate with the user to provide requested services and in regards to issues relating to their account via email or phone.
Correction/Updating Personal Information
If a user's personally identifiable information changes (such as your postcode, or if a user no longer desires our service, we will endeavour to provide a way to correct, update or remove that user's personal data provided to us. This can usually be done at the member information page or by emailing info@PershoreAbbey.co.uk.
Choice/Opt-out
Users who no longer wish to receive our newsletter or promotional materials from our partners may opt-out of receiving these communications by replying to unsubscribe in the subject line in the email or email us at info@PershoreAbbey.co.uk
Users of our site are always notified when their information is being collected by any outside parties. We do this so our users can make an informed choice as to whether they should proceed with services that require an outside party, or not.
Notification of Changes
If we decide to change our privacy policy, we will post those changes on this page so our users are always aware of what information we collect, how we use it, and under what circumstances, if any, we disclose it. If at any point we decide to use personally identifiable information in a manner different from that stated at the time it was collected, we will notify users by way of an email. Users will have a choice as to whether or not we use their information in this different manner. We will use information in accordance with the privacy policy under which the information was collected.
Contact Details
The Friends of Pershore Abbey CIO
PO Box 46
Pershore
WR10 1YN
Charity Number 1193273