Welcome to our new Church Community page where you can access resources and information for the many groups which run within our church and also those that reach out to our community.
BABIES AND TODDLERS RESTARTS 7 JAN 2022!!
We look forward to welcoming families back to Babies & Toddlers on Friday 7 January.
Please be advised that adults will need to wear face masks (unless exempt) when inside the St Andrew's Centre.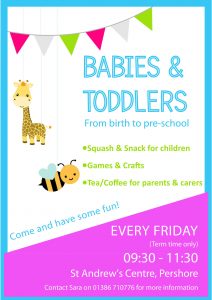 We are delighted to share with you our Baptism book for the Christmas season; "On Angel Wings" by Michael Morpurgo, a retelling of the birth of Jesus.
You can watch the author read the story on YouTube using the link on the here.
Jesus wasn't born anywhere special, but instead in a stable. This story is told from the perspective of the first shepherd to visit him, who then passed the story down from generation to generation – which now includes you! We hope that as your read or listen you will be reminded that Jesus is the greatest gift of all, and that He came at Christmas for everyone because He loves us so much.
We pray you have a blessed Christmas, and a peaceful start to the New Year.
Click here for the December Baptism Newsletter from Worcester Diocese: December 2021
Check out our video from Christmas 2020 and make your very own Christingle at home!
How to make a Christingle
We would also like to share with you the Cheeky Pandas resource, which you can access here: Cheeky Pandas | Thy Kingdom Come. Cheeky Pandas seek to get children excited about the Bible and prayer, and have lots of downloadable activity packs available as well as broadcasts and Cheeky Pandas songs!
Details and information about our groups:
Our Junior Church Group meets every second Sunday in term-time at 1015 in the St Andrew's Centre.Children can join in with a range of activities before joining the service in the Abbey for communion.Our Junior Church also take an active part in our All Age Eucharists, Christmas and Easter Celebrations and enjoy a number of social activities throughout the year.We also have an Upper Room Group for our older youth members.Contact Suzanne Clarke on 01386 553293 for more details. 
Come back soon for details of all our church and community groups
The brilliant Calling Young Disciples team have created some interactive children's resources which link to each week's lectionary. Use this QR code to take your family straight to the latest activities or check them out here https://cofe-worcester.org.uk/interactive-childrens-resources/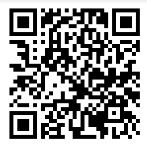 The Church of England's 'Faith at Home' initiative is a national campaign that builds on the work of Growing Faith and Everyday Faith to support the faith development and pastoral care of children and young people.  Each week, they will be publishing a range of content to support families discuss faith, develop their practices and habits together following these themes.  Find more information and access this resource here:  Faith at Home
Suzanne and Jayne