Café Church 0945 St Andrew's Centre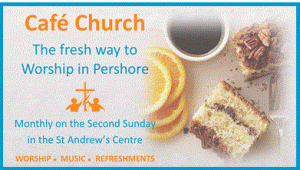 Join us in St Andrew's for our new monthly informal worship sessions, which form part of our Calling Young Disciples mission.
We will be exploring faith in an informal and relaxed environment with refreshments thrown in!
Café Church is a 'fresh expression' of Church and involves worship, music, activities, and a talk.
Form more information contact Revd Steve Dunton at curate@pershoreabbey.org.uk