ST ANDREW'S CENTRE OPEN FOR BUSINESS: New events coming soon!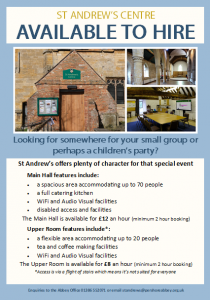 As we continue to move forward out of the Coronavirus crisis, St Andrew's is once again well and truly open for business!
With lots of brand new sessions and some of our familiar events starting soon, there's plenty of choice for those wanting to get back into the swing of things in a Covid confident environment.
Watch this space for more information on some of the events we have coming up in the next few months, including:
Cafe Church
Zumbini with Eve MZ
Trainmasters
Pianoscapes with Chris Long
Don't forget, St Andrew's is also available to hire for meetings and parties, so please get in touch if you want to find out more.